Geboren 1966 im ostfriesischen Wittmund bei Emden. 1994 Intensivstudium am Theaterstudio 1992 e. V. in Berlin sowie Kurse bei Susan Batson, Mike Bernardin und Mel Churcher. 1997 erhielt er für seine Rolle in »Not a Love Song« (von Jan Ralskes) den Max-Ophüls-Preis als bester Nachwuchsdarsteller.

Neben seinen zahlreichen Filmauftritten wirkte Rudolph auch in Theaterstücken des Schauspielhauses Zürich, des Berliner Hebbel-Theaters, der Berliner Volksbühne und der Bad Hersfelder Festspielen mit.

Am Deutschen SchauSpielHaus in Hamburg ist er u.a. in Karin Beiers Uraufführung »Reich des Todes« von Rainald Goetz zu sehen.
Current plays
by Rainald Goetz
Directed by Karin Beier
von Elfriede Jelinek
Regie: Karin Beier
Show all events
By Johann Sebastian Bach, Friedrich Hölderlin, Christoph Marthaler
Directed by Christoph Marthaler
Co-produced with the Schauspielhaus Zürich and the Akademie der Künste Berlin (Berlin Academy of Arts) / supported by the Hauptstadtkulturfonds (Capital City Culture Fund)
Archive
person_gallery_headline
Die Sorglosschlafenden, die Frischaufgeblühten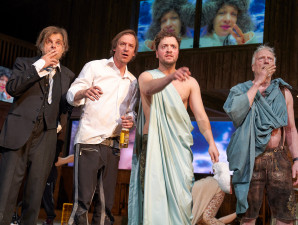 Lärm. Blindes Sehen. Blinde sehen!